Meet Our Friendly Phoenix, AZ Veterinarian Office Staff
The first thing you'll notice when you walk into our Phoenix veterinary office is the incredibly friendly and inviting atmosphere. Members of our staff have been hand-picked to provide you & your pet the best possible experience during your visit. Learn more about our team below.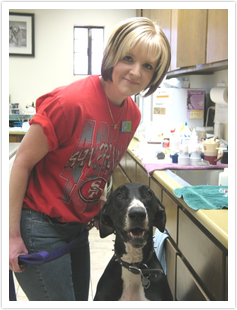 Irene, Certified Veterinary Technician
Irene has been a part of the veterinary field since 1993. She completed her veterinary technician certification in 2002. Irene enjoys all aspects of ensuring that our patients are receiving excellent care and that our clients leave with all their questions answered. Irene joined Village Animal Clinic in 2003. Irene enjoys spending time with her family and two adult sons. Her pets - Xena, a very large Great Dane and Shadow, a chocolate lab- keep her busy at home.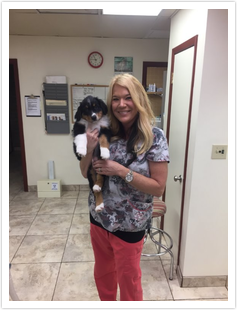 Michelle, Certified Veterinary Technician/Office Manager
Michelle entered the veterinary field in 1996. Since joining our staff in 2009, she has studied and completed testing to become a certified veterinary technician. She is able and dedicated to assist in the unique challenges that each patient brings to the hospital. Michelle believes pets are family members who deserve the best medical care possible. Michelle enjoys spending time with her husband, daughter and new Aussie puppy Reece. Her daughter will be attending Northern Arizona University on a full scholarship. Her hobbies include reading, hiking and golf.